Discover more from Unstoppable
A constant reminder that you can win out over any circumstance thrown in your way. Show the world that you are UNSTOPPABLE.
Are You Ready To #BeUnstoppable?
Unstoppable--it is the only way to be.
Please allow me to share this from a recent Instagram post of mine, made on December 28, 2022: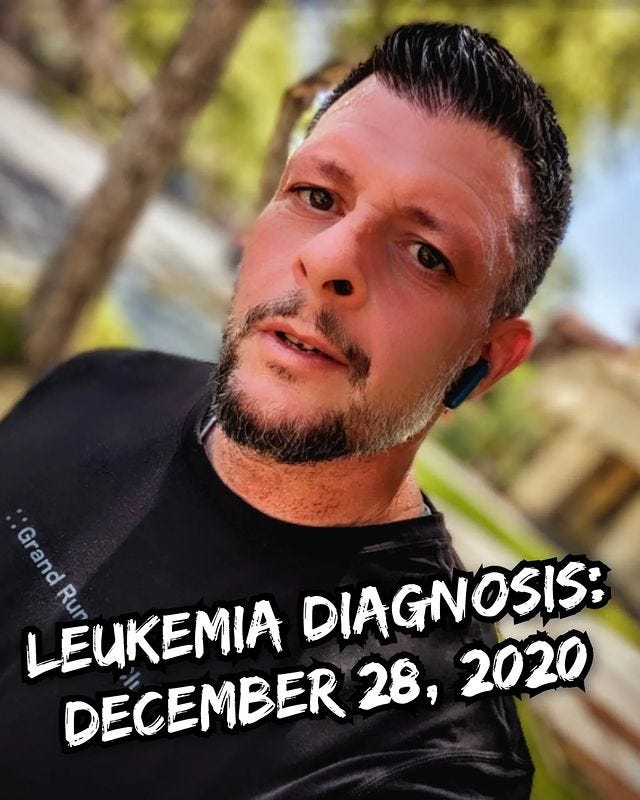 ---
"So when you put all of these factors together, the diagnosis is Chronic Myeloid Leukemia."

"Wait--did you just say LEUKEMIA???"

That was the conversation that happened 2 years ago today. COVID was still very much a thing, but I took my stupid mask off before asking that question. Because of health restrictions, my wife was sitting in her car waiting in the parking lot. I had to tell her that her husband has a treatable but incurable blood cancer in a parking lot, and later had to tell my children sitting on the floor in our new (at the time) living room.

That was the day my life changed forever. I'd been busting my ass for 14 months to lose 85 pounds, and felt healthier than I had in years.

And immediately, a new challenge was thrown in my path, one where success might look different than what I'd envisioned before.

A famous quote from Roddy Piper:

"Just when you think you have all the answers, I change the question!"

That's my life. When I figure out fitness and nutrition combined with Leukemia, how my body responds changes. Sometimes losing pounds is a win, sometimes maintaining is a win, sometimes only gaining a few when you should have gained more is the victory.

But there's another Roddy Piper quote that means something to me:

"I came here to chew bubblegum and kick ass, and I'm all out of bubblegum."

I've been out of bubblegum for two years now. But I won't stop kicking ass.

Thank you to everyone who has supported me in this journey, no matter how big or how small. I love and appreciate you.

"I can, I will." ~Roman Reigns

I only know one way, and that's to Be Unstoppable.
---
Every time I share my story, or share an update, the response is immense. And it's not just support and well wishes. I get others' stories. I learn about things people are dealing with, and I'm often told how my story is motivating or inspiring them to be the protagonist main character of their own story.
And that's why I'm back. That's why I am sharing my experience and knowledge on a more regular basis. To me, it's a responsibility. I still don't know why I "had to" end up with Leukemia. But I have it, and if it allows me to reach more people, and help them, then let's do it.
So get ready. I'm a real person—I laugh, I cry, I live, and I learn. There will be times that I make you do one of those four, and times where you might do all four.
---
I'd love to hear from you, too. Simply reply to this email, and it will go directly to me!
You can also hit me up on Social Media, I am gregdmarco44 on all of them:
---
Thank you for following my on this journey. I hope it benefits you along the way. If so, please share this with a friend:
And if you are reading this but aren't subscribed, please do so. It's free, and if you decide later that it isn't for you, you can always unsubscribe:
---
Here are some more ways you can support this endeavor, while still getting something great for yourself!
NOT DEAD CAN'T QUIT isn't just a brand, it's a mindset reminding you that Life Is Tough, Be Tougher. You can save 30% on your NDCQ gear by heading to NDCQ.com and using the promo code DEMARCO.

If you enjoy premium content like what you get here at DeMarco Wrestling, you'll definitely enjoy what The Athletic has to offer. It's well worth a subscription, and I can get you 40% off at this link.

Check out Menlo Club, and their outstanding subscription box! At $60/month, it's a great way to update your closet with high quality and comfortable clothing. I've been a member for over two years now—I love it—and I can get you your first box for just $20! Click here to sign-up for Menlo Club.